THE PRIVACY PUZZLE- is a lack of privacy at work impacting your productivity?
A leading global market research company Ipsos recently carried out an investigation into the way in which privacy in the office affects the working attitude of white collar workers. Over the years, there has been a change in office preferences as social media pushes us further into being openly connected. With this affecting new office interior design trends, businesses are no longer isolating people into box cubicles — but is this a good thing? Ipsos's research shows that 85% of people are dissatisfied with work due to lack of privacy, causing concentration to flutter straight out the window.
The investigation additionally revealed that workplaces today focus too heavily on open collaboration, leaving individuals with no privacy to focus on their own tasks. Does this mean that businesses could suffer from an open plan office interior design? Steelcase/Ipsos researchers say that most workers have "little capacity to think and work creatively" due to workplaces today not providing privacy as a necessity. A report on the State of Global Workplace also found that 63% of employees are disengaged and unmotivated at work; however, within the United States, those who spend up to 20% of their time working independently are the most engaged of all workers surveyed.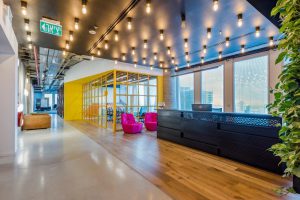 "the need for privacy sometimes – at work as well as in public – is as basic to human nature as is the need to be with others." – donna flynn, director of steelcase's workspace futures research group.
Furthermore, the director of Steelcase's research states that the key to an optimum work setting is all about balance: "open plan isn't to blame any more than reverting to all private offices can be a solution". The way forward is not to provide only open-plan work spaces, but to create a setting where employees are free to circulate and flow from collaborative settings to their own private space. With the huge amount of information people have to deal with and the many different ways of working that is increasing day by day, it is important to provide an area where workers can have the time and privacy to centralise the information.
A challenge for office design consultancies today is understanding individual and business requirements when it comes to planning layouts. What you need is a balance that keeps the job collaboration levels high, but also making sure your team has the tools and options that cater to their cognitive and emotional needs. A solution to this "open-plan epidemic" is to incorporate an office interior design where acoustic pods and haven booths are accessible to employees, so they can easily break away from group settings and work individually. By keeping these fundamentals in mind, workers can still pull together for inspiration and draw energy from one another, as well as be restored by the calm of privacy within their own working area.
Talk to Futurebuild about our thoughts on this topic and how to address it in your organization.
Back to Knowledge Base